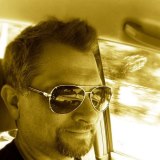 Thanks for stopping by and getting to know me a little better.
I am a husband. My wife is the love of my life. Every day I learn more and more about her, about myself, and about God through our relationship.
I am a born again Christian. This defines who I am as a person. It permeates my life. It's reflected in my marriage, my work, and my daily choices.
And I'm a writer. Since I was young I've always loved reading, and I've loved expressing myself in the written word. This website is a way for me to communicate to you what I'm thinking about, what I enjoy, what God is doing in my life and the life of my family. It's is a way for you to get to know me, and, I hope, a way for me to get to know you.
My goal is to teach, inspire, encourage, motivate, and even entertain you. In short I wish you all the best that God has for you. If I can be a little part of that, I have succeeded.
Many of my entries are on the Christian life and theology and are a way for me to communicate what God is teaching me. Some of my entries are of a more personal nature, and I will be posting some of my more creative writing and photography. I am also working on a book, excerpts of which I will be posting here. Feedback is particularly welcome.
You can follow me on twitter @bengatrelle.
Thanks for walking with me on this journey.